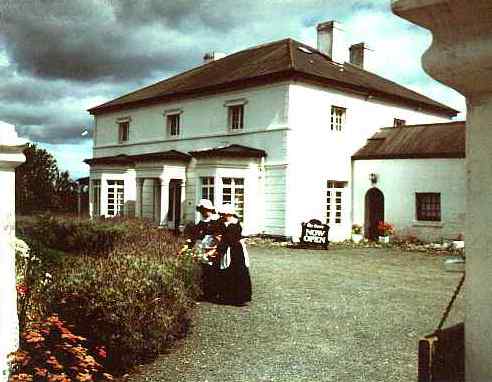 Some more of The Grove, layout and photos . . .
---
Layout - Interior

The open areas of the house comprise the three floors of the main house plus the Souvenir shop in the 'tack' room, in one of the brick wings. The house is constructed largely of bluestone, with a sandstone fascia and window and door surrounds and a cement render on the back and sides. Two brick wings were extended off the original stone kitchen, perhaps in the 1840s or 1850s. Original cedar panelling, doors and a cedar staircase highlight the interior. The furnishings are largely 19th century Australian Colonial, with lots of cedar and several items featuring huon pine.

The ground floor of the main building has Dining, Breakfast and Drawing rooms, Entry foyer, Study and Butlers room open for display. On the second floor, three large and one smaller bedroom plus small gallery (above the cedar staircase) and servants' workroom fill the space. The attic has three bedrooms plus a work area at the top of the stairs.


An attic bedroom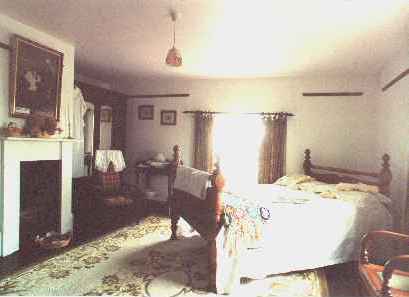 1st floor bedroom


< The kitchen and brick wings are not currently open for display. The lower floors of these include the bathroom / laundry, kitchen and pantry, work room/bakery as well as the previously mentioned tack room/souvenir shop. The upper (attic) floors of the wings originally were the male servants' quarters and servants' chapel but are currently used for storage.
---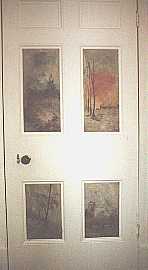 Our painted doors
Two of our cedar doors (in the dining and breakfast rooms) have one side painted, having paintings on four panels. These paintings date from around the turn of the cenury and are possibly by renowned Australian Heidelberg School painter David Davies (brother of then owner Joseph Davies) but perhaps more likely by one of Joseph's daughters, Rose.
---
The gardens and the other buildings
The other buildings - restaurant (see separate page), manager's residence and Nanna's cottage (accommodation), and toilet block appeared in the 1970s, each in keeping with a nineteenth century style, often featuring doors and windows salvaged from much earlier buildings. The gardens have been progressively enriched and extended using the layout existing in the 1960s.



. . . Autumn      

 

The Dunny

 
---

Back to The Grove homepage